How To Start A Self-Hosted Blog - Step By Step Guide
|
7/5/2017
The following page contains affiliate links. I may earn a commission if you purchase something through my affiliate links.
Whether it is for personal or business purposes - creating your own blog isn't that difficult and expensive as it used to be many years ago. Nowadays, you can create a blog easily. Though there are many ways and tools for creating your blog, I will only share the ones I have used or I am familiar with. Read the following steps to learn how to create your own blog:
Want to create a blog like mine?
Step By Step To Your Own Blog
Step 1:
Purchase web hosting and domain. For your blog to be accessible on the Internet, you need web hosting and a domain. Webhosting is the home of your blog and the domain is the address of your blog. You can purchase web hosting and domain within the same company but I recommend to purchase web hosting and domain name with different companies. If you need to change your web host for any reasons, it's easier to move your domain to your new web host.
I host my blogs at InterServer and purchase my domain names at Namecheap. What I love about InterServer is the option to pay monthly for web hosting instead of paying for years in advance. I pay 5$ per month for my web hosting at InterServer and about $10 to $13 per year for each of my domains. InterServer has a very great customer service. Whenever I have had an issue, I have contacted them and they have answered immediately and have always been very helpful and solved my issue.
Another great web hosting provider is Siteground. It is especially recommended if you want to host a WordPress blog.
Step 2:
Now you need to install a blogging/content management software or website builder on your web hosting server depending on the type of site you want. Most people recommend WordPress because it is the most flexible content management software and it has many features. However, there is a learning curve with using WordPress and it has a weak point - it can be hacked easily due to the MYSQL database. For this reason, you need to be very careful and invest in a good security. Personally, I don't use WordPress because I prefer a content management system that is not so complex and vulnerable. I use a so-called flat-file content management software called Typesetter that has no MYSQL database. It stores data in files that are organized in folders instead. It has a similar user interface but it is way more simple than WordPress. I find it's enough for my purposes. If you want to use WordPress or any other CMS, most web host provider offer an easy one-click installation for WordPress and many other CMS. Just follow the instructions of your web hosting provider to install WordPress or your preferred CMS.
Step 3:
Once you have created the framework of your blog, it's time to fill it with content. Though you could find much information about blog content creation online for free, I recommend the Pajama Affiliates courses from Robin Cockrell and Lesley Stevens since they are affordable and include a free live support in their Facebook group. After purchasing any of their courses, you are not left alone but get help whenever you need it. No other Affiliate Marketing classes offer that kind of expertise and group coaching like the Pajama Affiliates do!
My recommended tool for creating beautiful product displays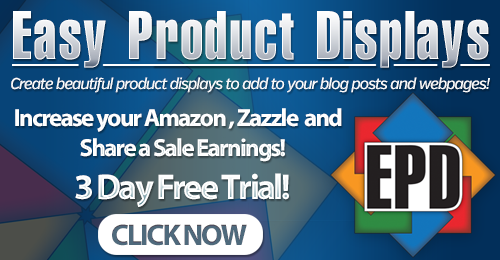 ---