The following page contains affiliate links. I may earn a commission if you purchase something through my affiliate links.
When it comes to searching for free coloring pages on the Internet, you can get easily overwhelmed because of the endless sites that will pop up.
Unfortunately, you can't just trust any site because you don't know if the coloring pages which are offered on a site for free are legit. What if the coloring pages are stolen from another site?
To avoid pitfalls, I want to share the Ultimate List of Free Coloring Pages For Adults (and also for Kids!) with you which was carefully compiled by adult coloring book artist and creative entrepreneur Sarah Renae Clark. All the sites on this list are reliable because they are from well-known artists.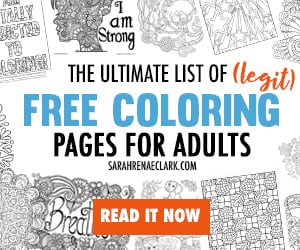 If you are also a coloring book/pages artist and would love to share some of your work for free, you can kindly ask Sarah to add your site to her list. That's what I did. I'm on her list with my other site.
Now go to the Ultimate List of Free Coloring Pages For Adults and download as many coloring pages as you want!
Please share this blog post with your friends on Social Media or on your own website to help other colorists find these free coloring pages, and to help the artists get the exposure they deserve for being so generous with their free coloring pages!
Recommended Products
Hammermill Paper, Copy Paper, 8.5 x 11 Paper, Letter Size, 20lb Paper, 92 Bright, 3 Ream Case / 1,500 Sheets (113620C) Acid Free Paper
Printworks White Cardstock, 67 lb, 96 Bright, SFI Certified, Perfect for School and Craft Projects, 8.5 x 11 Inch, 100 Sheets (00540)
Sargent Art Premium Coloring Pencils, Pack of 50 Assorted Colors, 22-7251
Prismacolor Premier Colored Pencils, Soft Core, 72 Pack
STAEDTLER pencil sharpener, premium quality sharpener with screw-on lid, prevents accidental openings, compact size for pencil case and work-station, 511 63BK
Gel Pens Set Colored Gel Art Markers Fine Point Pen with 40% More Ink for Adult Coloring Books Drawing Doodling Scrapbooking (24 Colors)
Ohuhu 40-color Alcohol Marker, Dual Tips Permanent Art Markers for Kids, Highlighter Pen Sketch Markers for Drawing Sketching Adult Coloring, Alcohol-based Markers, Back to School Art Supplies
Water Coloring Brush Pens, Ohuhu Set of 6 Aqua Painting Brushes for Water Soluble Colored Pencils, Water Color Water-Base Markers, Powdered Pigment Watercolor Paints, Back to School Art Supplies
Thank you so much for reading this blog post.
If you want to get blog updates, you may sign up for my Blog Feed and if you are interested in my free Doodle book "Doodle Inspiration: Learn How To Doodle", you may sign up for my newsletter. 
Lots of love,
Janet